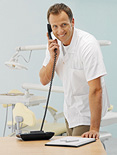 Want to find an affordable dentist in your area? Itís easy to save money at participating dentists with a discount dental plan from EasyChoiceDental.com! Just enter your ZIP code and save 10% on any plan when you use Coupon code EASY10 to join!
EasyChoiceDental.com proudly offers you a choice of more 100,000 participating dentists and dental care specialists listed in combined networks! Click here and search our dentist database to find the following dental care providers available in your area:
General dentists
Prosthodontists
Oral Surgeons
Periodontists

Orthodontists
Family dentists
Pedodontists
Endodontists
Itís easy to search our dentist directory by dental office location, a particular dentistís name, and even dental care specialties like orthodontics, oral surgery and more! Plus, once you join the discount dental plan of your choice, you can start saving 10% to 60% on your dental care at participating dentists.
General and family dentists typically perform routine dental care procedures like dental check-ups, tooth fillings, x-rays, and teeth cleanings. Your dentist might refer you to a specialist like an endodontist or orthodontist if you need a particular dental procedure like gum surgery or braces. Thankfully, most of our plans will provide you with savings on dental care specialties like oral surgery, endodontics (root canals), orthodontics (braces), and more.
The individual discount dental plans featured start at only $79.95 PER YEAR and the family plans start at only $129.95 PER YEAR. Simply enter your ZIP code and enjoy the freedom to conveniently choose the discount dental plan that is right for you and your family. Join the plan of your choice, print your plan membership card from any printer and visit a participating dentist for deep discounts on most dental services. Itís that easy!
Enter your ZIP code or call 866-864-3511 to choose from the discount dental plans available in your area. Use Coupon code EASY10 to join and get 10% off any plan!